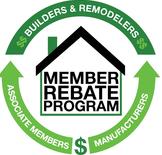 Free Member Benefit to Builder & Remodeler members of the Carbon Builders &  Pennsylvania  Builders Association!
The Member Rebate Program is one of the fastest growing member benefits in PBA's portfolio. With access to 55+ product manufacturers, and counting, participating builders can save significantly on the materials they use every day – many even recoup their membership dues!
There are currently over 50 of the country's leading Manufacturer Brands participating in the Member Rebate Program offering the same rebates as the "Top-5 Builders" receive regardless of your volume.
Recently, the Rebate Program revamped the website to make it easier to get connected and file rebate claims.
Visit the new website at— www.pbarebates.com 
The site also showcases a brand new feature – the Associate Directory.  These listings connect active builders with associate members who have experience using the rebate products, promoting PBA's message of members doing business with members.
Associates, be sure to visit the site and register online to be included in the directory. General listings are free with priority positions available for a small fee. Associates can use the following registration form found here: Registration Form
Builder Member Rebate Basics:
Register here / File a Rebate Claim / Receive a Check
No Receipts Needed to Claim
Claim Quarterly, Receive a Lump-Sum Rebate Check
Nationally, over 5,600 NAHB Builder members participate
Over 70% of those members who participated last year received more in rebates than they paid in annual dues to their HBA!For full program details visit http://www.hbarebates.com/pba.html
Builder & Remodeler Members can claim for any completed residential address from:Deadlines for Submission:Rebate Claim FormsThere are currently over 50 Participating Manufacturer Brands!Visit our Participating ManufacturersClick the link to view: Current List, Read More about Manufacturer Brands, how they compute their rebate, let us know if you are interested or willing to switch.
Questions?
Kim Klein – Member Rebate Program
Direct Telephone: 866-849-8400 – Email: [email protected]