Carbon Builders Association (CBA) is respected, small business, non-profit trade organization, whose members specialize in the home building, remodeling and renovations of homes and commercial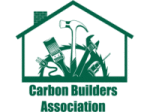 properties.  From new homes, to custom homes and renovations and remodeling, our organization thrives on being the "go to source" for the home owner, business owner or contractor.
Our members enjoy the benefits of increased business opportunities, professional development, education and recognition.
Professionals in the Building and Remodeling industry who join Carbon Builders also become a member of the Pensylvania Builders Association

and the National Association of Home Builders.  Membership is 3 for the price of 1.