Student Scholarship & Endorsed Trade Program/Foundation for Housing
Carbon Builders Association Scholarship
The Annual Scholarship Application is now open and the Application Deadline is May 1, 2023
The Carbon Builders Association provides Scholarship Funds to student pursuing a career in the home building industry and related trades.
HOW TO APPY: Applicants must submit to CBA by mail or e-mail the official application form. For  more information, please contact
Carbon Builders Association,  PO Box 218, 490 Ore Street, Bowmanstown, PA 18030,  610-379-1099

Andreas Plumbing, Heating & Air Conditioning, Inc. of Lehighton, PA is giving away four $500.00 scholarships to 5-Star 'Class of 2023' high school seniors at the Lehighton Area High School, Palmerton Area High School, Jim Thorpe Area High School and the Carbon Career and Technical Institute (CCTI), who plan to attend an accredited college, university or technical college and major in Heating, Ventilation and Air Conditioning (HVAC) or plumbing. A graduating trade student, who is entering an HVAC and/or Plumbing apprentice program or will obtain employment at a HVAC or plumbing company upon graduation, is also eligible.
The awarded scholarships must be used within a one-year period. Deadline to apply is April 4, 2023. 

The Endorsed Trade Program is a program developed by PBA, in collaboration with educators, local builders associations and other industry stakeholders, to provide technical school
graduates more credibility in the job market and provide builders with a highly skilled workforce.
PBA's program is the ONLY program that offers comprehensive support for schools and develops relationships with students.
By requiring that curricula meet industry standards, ensuring that facilities are adequate for proper hands-on training, assisting schools in the development of home builder student chapters, facilitating local internships, and providing a process to ensure that students can connect with builders, PBA's program accelerates the placement process for students to transition successfully into the workforce.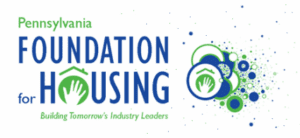 The Pennsylvania Foundation for Housing, Inc. was established by the Pennsylvania Builders Association (PBA) in 2012 to support programs that ensure the growth and development of the home building industry through strengthening educational opportunities in residential building and related fields.
Led by a volunteer Board of Trustees, the Foundation is organized as a not-for-profit 501(c)(3) charitable organization. Administration, including program development and marketing of the Foundation is provided by staff of PBA. Fundraising is provided by non-staff volunteers and trustees. Foundation operations are conducted from the PBA offices in Harrisburg, PA.